Affordable Broken laptop screen replacement in NE Tarrant County. PC-Help has been repairing computers in Hurst since 2005 and been awarded the title of Best Computer Repair store in NE Tarrant County 11 years running!
Owned by Shane Foster.  A long time computer systems engineer that oversees PC-Help's team of friendly computer professionals focused on quality work and excellent service.  All of our work is guaranteed! Affordable Broken laptop screen replacement
Why not use the #1 rated company for computer repair in NE Tarrant County?
Check out our Reviews page here
Lines or Dots on the Screen
If your laptop's LCD or LED screen has some visible black dots or lines, you should first try to press it – just enough force that will alter the display. Most of the time, this problem is due to trapped or wedged pixels. Applying pressure on it will usually loosen and free the pixels, and when it is unstuck, the dots and lines will disappear.
However, if applying pressure to it doesn't remove or alleviate the dots, then the only way to solve it is by replacing the screen. Most of the time, monitor lines and dots are usually bearable and poses no hindrance to productivity or usage – so as long as that's the case, there is no need for replacement.
Dimmed Screen
Another common problem is when your display is darker than usual. First of all, you have to make sure that you set your laptop's brightness level to maximum. If that does not work, then there are two other ways you can do yourself to fix the problem.
Firstly, you can try closing and opening the lid. Most of the time, your laptop just lagged and didn't follow the system protocol immediately or the lid switch was stuck. Manually closing and opening the lid back again usually solves this issue.
Secondly, you can do a quick restart/reboot. It may just be a minute system error or problem that can be solved by restarting your device. After it has fully booted up, you can assess if it's still dimmed.
If both didn't work, there might be hardware problems – burnt backlight or inverter, or broken cable. We do not advise you to do these manually as it is more complicated than replacing the screen. Doing it on your own may destroy the circuit board (which is quite expensive) and backlight lamp. The lamp itself contains mercury (extremely hazardous to your health) and lead glass – it's brittle and may cause static charges and electrocute you when repairing it without the proper tools.
Wrong Color Display or Distorted Screen
If your laptop's screen is messing up – color is incorrect, divided screen, or jumbled display – it's often due to a defective GPU. There is nothing you can do but bring your laptop to a professional repair facility like PC-Help. It requires replacing the GPU, which is almost always connected to the motherboard. It also needs precision tools to repair successfully, without them, you may worsen the damage.
Screen Repair or Replacement
Our labor prices are as follows:
Standard difficulty  $75  (95% of laptops fall in this category)
Advanced difficulty $125
Apple Mac product $170
Part costs are completely dependent on availability at the time needed. We do stock a few standard screens but a large percentage have to be specially ordered. Most are available in 48 hours.  If you would like to provide your own parts we will be happy to provide strictly labor. Affordable Broken laptop screen replacement
Our Process
Diagnostic: We start with a diagnostic to determine the cause of the problem you are currently having, what will be required to fix that problem, and we test all of the other components of your equipment to determine if they are at a greater risk of failure in the near future.  We don't want you to spend money on a repair only to have another failure a couple of weeks from now when the better option for you would be a new device. Note sometimes a bad cable or a bad connection can make a screen look bad but not actually need to be replaced
Quote: Once the determination has been made about what is required to repair your computer we will quote you a price.  That price is as firm as it possibly can be.  In the instances where something unforeseen happens that we are unable to honor the price quoted we will always strive to work out something acceptable for everyone.   Even to the point where we have undone all of the work and put things back like they were to the system started. Effectively rolling back time so that different choices can be made.  It doesn't happen often but we go a long way to make our customers happy.
Approval:  Your approval of any work or any charges is required for us to proceed.  Once you approve the work and the cost we will start the repairs.
Repair:  We work as quickly and efficiently as possible to get your equipment ready as soon as possible.  However some things take time and as the old saying goes 9 women can't make a baby in 1 month no matter how badly you want it.
Pickup\Payment:  Once you are notified your system is ready you can stop in and pick it up or we will make arrangements to bring it to you.  Payment is due at this time.   If we haven't heard from you in 30 days we will assume that you no longer want the machine.  We will waive all charges and go about recycling it.
Warranty:   We warranty everything we do.  In general we work on a 10 day policy that if something goes wrong in the 10 days after pickup we will take care of it at no charge.  However, based on the circumstances we have warranted things for much longer than 10 days.  If you have a situation where something we failed or didn't take care of the issue come back.  Talk to us.  Ask to talk to the owner.  Email the owner@ [email protected]  We will work with you to come up with a reasonable resolution.  We are in business but we want to treat others as we would want to be treated.  So if you have a problem give us a chance to make it right.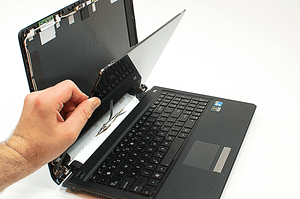 Affordable Broken laptop screen replacement
Contact our store in Hurst for a custom quote on these services.
508 W. Harwood Rd
Hurst TX 76054
(817) 280-0500
https://www.pc-help.com 
https://g.page/PCHelpTX