Best Computer Repair Service Shop in Hurst – 11 Years Running
PC-Help : If you have a computer problem We can Help! 
Best Computer Repair Service Shop in Hurst     PC-Help is owned by Shane Foster.  A long time computer systems engineer that oversees PC-Help's team of computer professionals focused on quality work and excellent service.  All of our work is guaranteed!  
Why not use the #1 rated company for computer repair in NE Tarrant County?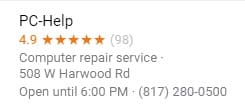 Check out our Reviews page here
Computer-Laptop-Desktop Repairs | Mac-iMac-Macbook Repairs
We have a wide array of repair services available to meet your needs. If you have trouble with your computer, phone, tablet, or even your game console we can fix the problems you are having and get you back to being productive or back to having fun.
All of our devices are important to us in this day and age and we understand that, so our technicians will complete your service quickly and correctly so you can get back to life. We service all makes models and types of computing equipment and a variety of other technology products so if you have something that is broken just ask us, we most likely can fix it.  Best Computer Repair Service Shop in Hurst
Our Process
Diagnostic
Quote
approval
repair
pickup\payment
warranty
Diagnostic: We start with a diagnostic to determine the cause of the problem you are currently having as well as what will be required to fix that problem but also we test all of the other components of your equipment to determine if they are at a greater risk of failure in the near future.  We don't want you to spend money on a repair only to have another failure a couple of weeks from now when the better option for you would be a new device.
Quote: Once the determination has been made about what is required to repair your computer we will quote you a price.  That price is as firm as it possibly can be.  In the instances where something unforeseen happens that we are unable to honor the price quoted we will always strive to work out something acceptable for everyone.   Even to the point where we have undone all of the work and put things back like they were to begin with effectively rolling back time so that different choices can be made.  It doesn't happen often but we go a long way to make our customers happy.
Approval:  Your approval of any work or any charges is required for us to proceed.  Once you approve the work and the cost we will start the repairs.
Repair:  We work as quickly and efficiently as possible to get your equipment ready as soon as possible.  However some things take time and as the old saying goes 9 women can't make a baby in 1 month no matter how badly you want it.
Pickup\Payment:  Once you are notified your system is ready you can stop in and pick it up or we will make arrangements to bring it to you.  Payment is due at this time.   If we haven't heard from you in 30 days we will assume that you no longer want the machine.  We will waive all charges and go about recycling it.
Warranty:   We warranty everything we do.  In general we work on a 10 day policy that if something goes wrong in the 10 days after pickup we will take care of it at no charge.  However, based on the circumstances we have warranted things for much longer than 10 days.  If you have a situation where something we did failed or didn't take care of the issue come back.  Talk to us.  Ask to talk to the owner.  Email the owner@ [email protected]  We will work with you to come up with a reasonable resolution.  We are in business but we want to treat others as we would want to be treated.  So if you have a problem give us a chance to make it right.
Computer Repair: Desktops/Laptops/Macs
We are Microsoft registered refurbishers. Diagnostic and repair – Performance and cleaning – Virus & Spyware Removal – Hardware Installation – Software Installation and Configuration – Screen Replacement – Charging port repair The Computer Won't Start. A computer that suddenly shuts off or has difficulty starting up could have a failing power supply. …
The Screen is Blank
Diagnose / repair hardware or software problems
Spyware, malware, trojan and virus removal
Setup wireless and small business networks
Laptop repair, PC repair and Apple repair
Abnormally Functioning Operating System or Software
Windows Won't Boot
The Screen is Frozen
Computer is Slow
Strange Noises
Slow Internet
Overheating
Data Recovery
If you are no longer able to access your important data from a physical device (Computer, SSD, External Hard Drive, Raid Array, USB device, Phone, Camera, SD card, xd card, memory card) we can help.    No matter the issue (Format, Damage, Corruption, Deletion) we can help you get your important data back.
If you've lost files due to a hard drive failure, accidental overwrite, fire, or for any other reason, our professional technicians can often help. The chances of recovery will vary depending on the extent of damage (where applicable), the length of time since the original event, the device's hardware, and several other factors.
To improve the chances of a successful recovery, immediately disconnect the power to any device as soon as data loss occurs. Do not run software on the device in an attempt to restore the data, as this will often cause additional issues by overwriting the files.  Best Computer Repair Service Shop in Hurst
Do not attempt to physically repair hard drives or other media.
Disk displays as RAW or Windows asks "Media/Drive is not formatted. Do you want to format it now?"
Accidentally deleted partitions
Restore lost partitions, due to repartition, boot manager, etc.
Recover from damaged or corrupted partitions
An inserted media card that contains errors
Turned off the storage device during the writing process
"Access denied" to a corrupted device System crash
Virus recovery (wannacry ransomware encrypted files)
A drive letter has gone missing
Unexpected power failure
Contact our store in Hurst for a custom quote on these services.
508 W. Harwood Rd
Hurst TX 76054
(817) 280-0500

Best Computer Repair Service Shop in Hurst
Computer Repair Service
Average rating:
7 reviews
Apr 11, 2020
They pulled data from a hard drive I had been told it was fried
They pulled data from a hard drive I had been told it was fried. Great work, friendly service, good prices. I will be continuing to go to them for my computer needs it the future.
Jan 19, 2020
Really really nice staff!
Were able to help me and get my laptop fixed in under 30 minutes!
Nov 7, 2019
pc help has helped me numerous times.
I won't go anywhere else to have my computer worked on.
Sep 1, 2019
These guys are fantastic.
I brought in my computer the first time because I forgot my login password for Windows, they reset it for me at a very good price. I brought it back in to have my printer installed. They are very nice and do great work. I highly recommend.
Jul 25, 2019
These are my go-to guys when I'm ready to get the sledgehammer out..
Took my eight-year-old laptop in because my Outlook was wonky and I thought I needed a new keyboard as well (keys sticking). Was even considering having to buy a new laptop! Brian was awesome, helpful, and not only fixed my Outlook but said my keyboard was working fine. Saved me oodles of money and time! These are my go-to guys when I'm ready to get the sledgehammer out.... Thanks PC-Help!
Jul 14, 2019
I just had my touch screen for Lenovo X1 Yoga replaced at PC-Help
I was leaving town and need it to replace my screen right away, They had screen in stock and it only took 2 hours to replace it. Excellent service and quick turnaround.
Jul 1, 2019
had a scammer call me and took control of my computer.
They said they were from Microsoft and that my computer had problems. Well, turns out they were not, they wanted $300 in itunes gift cards. thats where the red flag went up. Brought my computer to pchelp and Brian cleaned up the remote software they put on it and cleaned it of any malware. He was very nice and understanding and explained everything in detail for me. I will definitely come back when ever I have problems with my computer and will tell all my friends and family about this great place. Thanks again Brian!